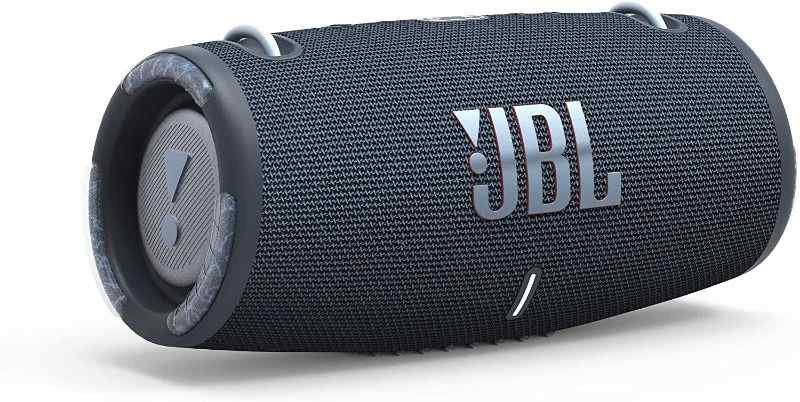 Looking for a portable Bluetooth speaker that can deliver powerful sound with deep bass, withstand water and dust, and last for hours on a single charge? Look no further than the JBL Xtreme 3.
This speaker packs a punch with four drivers and two JBL Bass Radiators that effortlessly deliver dynamic, immersive sound with deep bass and plenty of detail. Whether you're at home, at the beach, or at a party, the JBL Xtreme 3 will provide you with high-quality sound that will transport you to another world.
In addition to its exceptional sound quality, the JBL Xtreme 3 also boasts a portable design that makes it easy to bring with you wherever you go. The included carrying strap even comes with a built-in bottle opener, so you can enjoy your favorite beverage while you listen to your favorite music.
With an incredible 15 hours of battery life, the fun doesn't have to stop. You can party all day and into the night without worrying about the speaker dying on you. And when it's time to recharge, the JBL Xtreme 3 doubles as a power bank, so you can keep your devices charged and ready to go.
And of course, the JBL Xtreme 3 is fully waterproof and dustproof with an IP67 rating, so you can take it to the pool, the park, or even in the shower without having to worry about water damage or dirt particles getting inside the speaker.
Other features include wireless Bluetooth streaming, so you can easily connect your phone, tablet, or any other Bluetooth-enabled device to the speaker, and PartyBoost for multi-speaker pairing.
The JBL Xtreme 3 is a fantastic portable Bluetooth speaker that delivers powerful sound with deep bass, lasts for hours on a single charge, and can withstand water and dust. Its portable design and power bank feature make it perfect for on-the-go use, and its Bluetooth streaming and PartyBoost features make it a great choice for parties and gatherings. Don't miss out on the chance to experience high-quality sound wherever you go with the JBL Xtreme 3.